We've moved! As of April 1, 2022 our new address is 770 Sheridan Lake Road, Rapid City, South Dakota 57702
Protecting Your Loved Ones Preserving Your Assets
A short clip of a woman sitting side-ways in a small, wooden boat that is sailing on still waters through a majestic canyon. As the boat comes around a wall of the canyon covered in trees, the sun shines on the woman in the boat and the scene opens up to show even more faces of the canyon covered in plants and trees.
South Dakota Estate Planning Lawyers
30 Years of Trusted Guidance for Our Clients
Planning for your family's inheritance can be a challenge. With all the complex laws surrounding trusts & estates, you want someone by your side who can help you find answers to your questions and guide you to a solution.
With decades of proven experience in estate planning and probate, Aspen Legacy Planning in Rapid City, SD is here to provide you with the in-depth legal knowledge and insights you need to build a secure and prosperous future for your family. Since 2006, Stephen J. Wesolick has been the South Dakota estate planning attorney of choice for many people.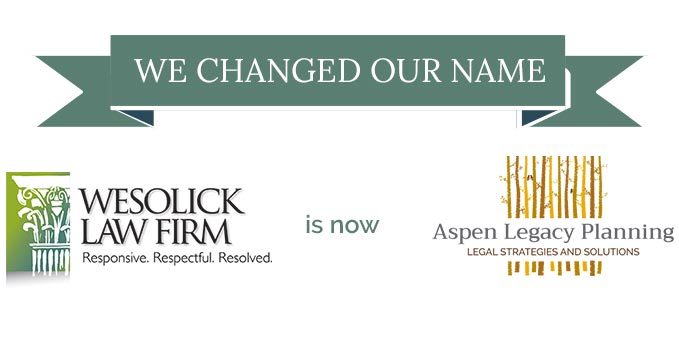 "We found Stephen and his staff to be friendly, highly ethical, and professional, and would certainly recommend them, as well as use their services, ourselves."

- Garry

"I would recommend any family member or friend of mine to them with ease."

- Samantha F.

"Stephen Wesolick is extremely knowledgeable and helpful in giving information to make informed decisions on trusts and wills."

- Randy D.

"We feel we have received excellent service & look forward to many years working together with updates and questions."

- John R.

"They genuinely care for and look after their clients helping them to secure the best possible outcome for whatever their estate law need is."

- Jeff R.
Estate Planning Solutions for South Dakota
Meet Founding Attorney
Stephen J. Wesolick
Our principal estate planning attorney has been practicing law since 1992. With a thorough understanding of the laws and challenges surrounding end-of-life planning in South Dakota, Stephen helps his clients gain a clear understanding of what they face and how to make the best use of their available legal options.
Many of our clients simply have not considered how important it is to get started on their estate planning. Therefore, we make it a priority to simplify the estate planning process as much as possible.
Stephen is admitted to practice or has referral relationships in jurisdictions across the country. Call today (605) 610-4016 and schedule your no-obligation consultation.
The Roots of Our Practice
Relationship-Focused Services

As your attorneys and counselors, we put your interests first - treating you with respect, honesty and dignity.

30 Years of Legal Experience

No-Obligation Consultations

We offer no-obligation in-person, telephone and video-conference consultations for your convenience.
Find the Legal Solution & Strategy That Best Fits Your Needs
Schedule a no-obligation consultation with our Rapid City attorneys today.